The following important information is in your UCCSC 2014 Registration Package:
Conference One Pager: 

UCSF UCCSC One Pager.pdf - contains information about wifi, shuttles, coat/luggage check, conference venue, meals, and amenities.
Sessions Brochure: 

Sessions-print.pdf
Campus Maps: http://pathway.ucsfmedicalcenter.org/images/UCSF_Parnassus_Heights_route_map.pdf, or see a Google map with all of the UCSF locations in San Francisco
Transportation to/from the Hotels: 

Transportation to UCCSC.pdf
Conference Venue Map:

UCCSC_venue_map.pdf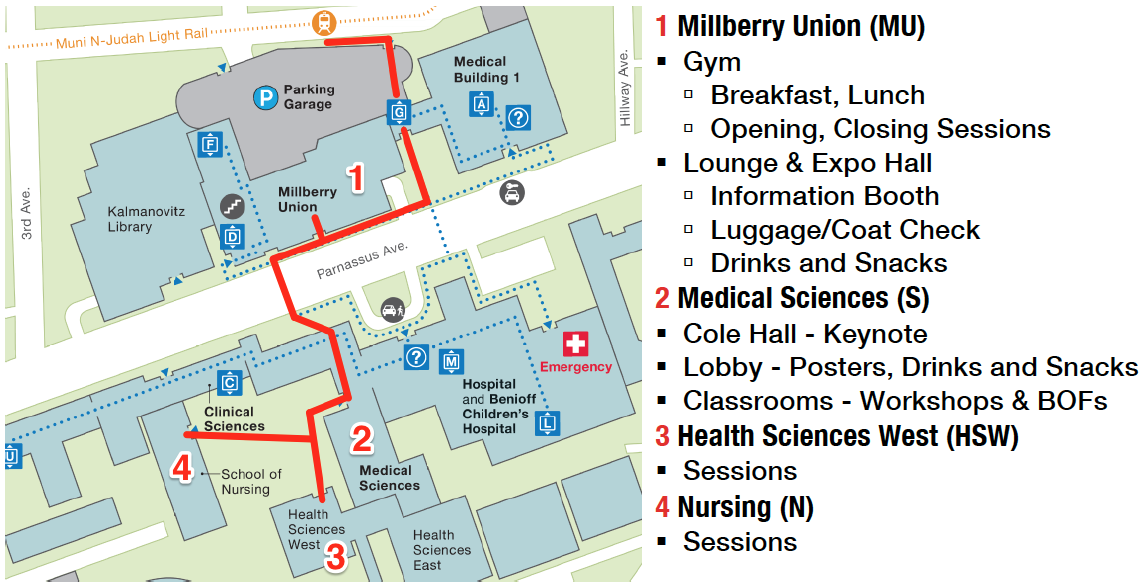 Selfie Tag Guidelines and Rules: https://uccsc.ucsf.edu/content/selfie-tag or 

Selfie Tag.pdf
Selfie Tag Photo Release Form: http://tiny.ucsf.edu/uccsc2014photorelease or 

Photo Release Form.pdf
Accessibility: http://access.ucsf.edu
Information Table: We will have an information table that will answer any of your questions related to the conference. Also we will have a coat and bag check available if you do not want to carry your items around the conference. Please see info table for more details.