FAST FACTS 
Who? UCSF's UCCSC Ambassador is Mark Bering, Conference Co-Chairs are Erik Wieland and Jane Wong
Contact: UCCSC@ucsf.edu
What? UCCSC Promotion and Participation; theme 32 Years of IT Collaboration
When? Proposals due June 2, Registration open June, Conference August 3-5
Where? UCSF Parnassus Campus
Why? UCCSC is a great opportunity for technologists to meet and network with colleagues from across the UC system. Consider submitting a session proposal highlighting your use of technology.
How? IT Forums on your respective campus, listservs, social media (use #UCCSC), websites, campus posters (see below)
TWITTER—use hash tag #UCCSC
Now accepting session proposals for #UCCSC 2014 at #UCSF! http://uccsc.ucsf.edu
Fun! Food! Fog! Decimals! Binary solo: Zero zero zero zero zero zero one #UCCSC @UCSF Aug 3- 5 http://bit.ly/1kystWC
Sautter Award Submissions open now through 5/16 honoring tech innovation at UC http://bit.ly/Mf4Sy5 . Presentation @UCSF #UCCSC Aug 3-5.
POSTER LOGISTICS—use any Power Point Slide
Creation Format: PowerPoint/other. Please note, PowerPoint is only a recommendation, any layout application that can save as a PDF will be an acceptable source application.
Style: Portrait / Landscape
Size: 36.5 x 48.5 to allow for bleed off edges* Edges should use single color, no words or text
Resolution: 300 dpi* Individual images should be 9 x 6 inches or more
Transmit Format: PDF of Power Point Slide
Deadline: July 25
UCCSC LOGOS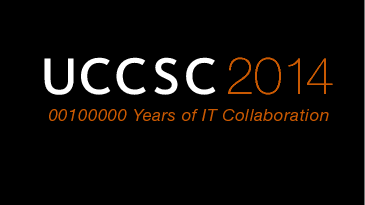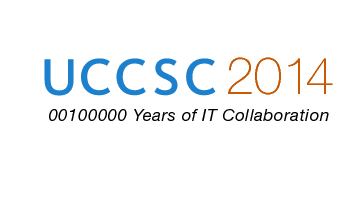 UCSF CALL FOR PROPOSALS
Colleagues:
The 2014 University of California Computing Services Conference (UCCSC) will be at UCSF, August 3 – 5.
In the spirit of our theme, 32 Years of IT Collaboration, we are accepting session proposals and encourage you to submit, particularly with colleagues.
Repeat Attendee to UCCSC?
You know the drill. Submit proposals* by June 2: http://uccsc.ucsf.edu/
*Note: You will need to create an account and login to submit a proposal
First time Attendee to UCCSC?
The conference is an important and unique opportunity for UC IT professionals to meet and share work done, challenges faced, and opportunities available. Read, About

Sessions are a fundamental part of the experience. First-timers are especially encouraged to participate so hit the ground running—share your knowledge and experience by hosting a session by yourself or with peers. See, Proposal Tips

Need inspiration? Peruse last year's sessions, Archive or Select, Audio Recordings
After proposal submission, communicate!
Share this announcement with your colleagues
Subscribe to the UCCSC mailing list: http://maillists.uci.edu/mailman/listinfo/uccsc
Follow #UCCSC on social media
Questions?
Contact us at UCCSC@ucsf.edu